After some time, we are glad to announce a new update for VitalPBX which comes with some important improvements and some minor fixes. Also, on this version, we are introducing the new OpenVPN add-on.
If you wish to read about the new features and add-ons introduced in previous updates, click here and learn about all the tools and upgrades we´ve added over time.
OpenVPN
On this version, we are introducing the OpenVPN add-on, that allows you to configure a VPN Server and its clients right from the GUI. This add-on is a commercial module. The free version comes with all the features, but you can configure only two clients at the maximum.
The OpenVPN module is divided by two sections, Server & Clients.
Server: Here, you can configure the VPN port, the IP range to generate dynamic IP addresses that will be assigned to the clients, define the public host of your PBX (The IP/Domain where your VPN Server is hosted),

Clients: Here, you will see the list of the clients that you have created, and you will be able to execute different actions like edit, download the configurations files, or delete the clients. Also, you will see the information of the connected clients like the Assigned IP by the VPN server and the real IP Address and others; This information is refreshed each minute.

Improvements
Trunks in Text Mode: Due to many requests about configuring trunks in text mode like in other Asterisk distros, we have decided to allow you to create trunks just by writing or pasting the configuration of your provider in a text box. This is to help the customers who come from other distros to have a very easy transition.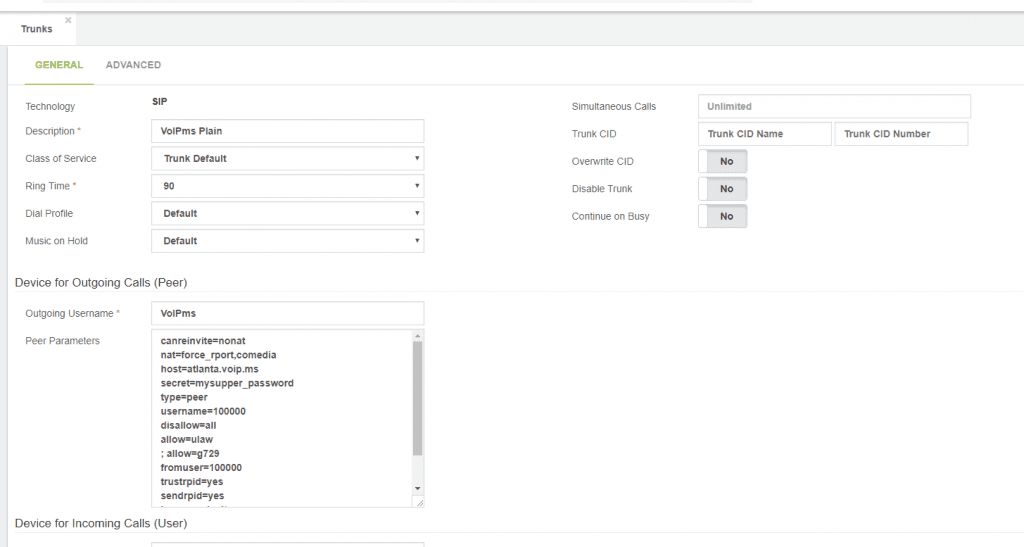 Extensions Status – Devices: The way to show the connected devices of an extension has been improved to show the information more ordered, also, the information from PJSIP devices is more accurate.

CDR Filters: Now it is possible to include in the CDR filter conditions the call type as the search condition.
Extensions – Pinless : The extensions with this option enable will not be asked to enter a PIN when making a call through an outbound route with a pin set assigned.

Features – Paging: The paging feature allows you to paging any extension dialing the feature code followed by the extension number that you want to page.
PJSIP & SIP SMS: Now is possible to send SMS between PJSIP & SIP Devices
GUI Languages: Spanish & Russian Translations has been updated
Others: Performance & Core Improvements
Fixes
Asterisk – Mini HTTP Server: It was not possible to assign a certificate to the Asterisk HTTP built-in server.
Inbound Routes: The CID modifier were overwritten by the CID Lookup sub-routine
Learn more about VitalPBX, our services and how we can help you achieve your goals in our official website.