We are glad to announce the release of our new update for VitalPBX (2.3.3). This version comes to fix some bugs introduced in the previous versions and add more Multi-Tenancy features.
If you wish to read about the new features and add-ons introduced in previous updates, click here and learn about all the tools and upgrades we´ve added over time.
Also, with this new update we want to announce two important things:
New partners portal: Here, the VitalPBX's partners will have access to outstanding discounts and other benefits. Learn more about our partner program on the following link.
New Store: We have redesigned our store to make it much more friendly and simple. In our new store, you can purchase the different subscriptions of VitalPBX (Carrier and Enterprise), add-ons, support services and manage your purchases and licenses. Meet our new store now.
Up next, we will list the new features, improvements and bug fixes.
Improvements and New Features
SoftPhones Licensing Server: The newest version (2.1.0) of this add-on now is compatible with Multi-Tenant environments.
Multitenant: Three new important features have been added to Multi-Tenant add-on:

Allowed Outbound Routes: Allows you to define the routes that will be used when this tenant make calls through a tenant trunk pointing to the main tenant (This means that the main tenant can be used as a Gateway). Calls made to any other tenant than the main tenant will be sent through Inbound Routes definitions.
Inbound Numbers: List of numbers/patterns belonging to this tenant. Calls that match with these numbers will be forwarded automatically to these tenant inbound routes. The configuration of these numbers takes precedence over the inbound routes definitions on the main tenant.
Softphone Devices: It allows you to define how many Sonata Communicator Devices could be activated on a tenant. This option will be only visible if you have installed the "Softphone Licensing Server" add-on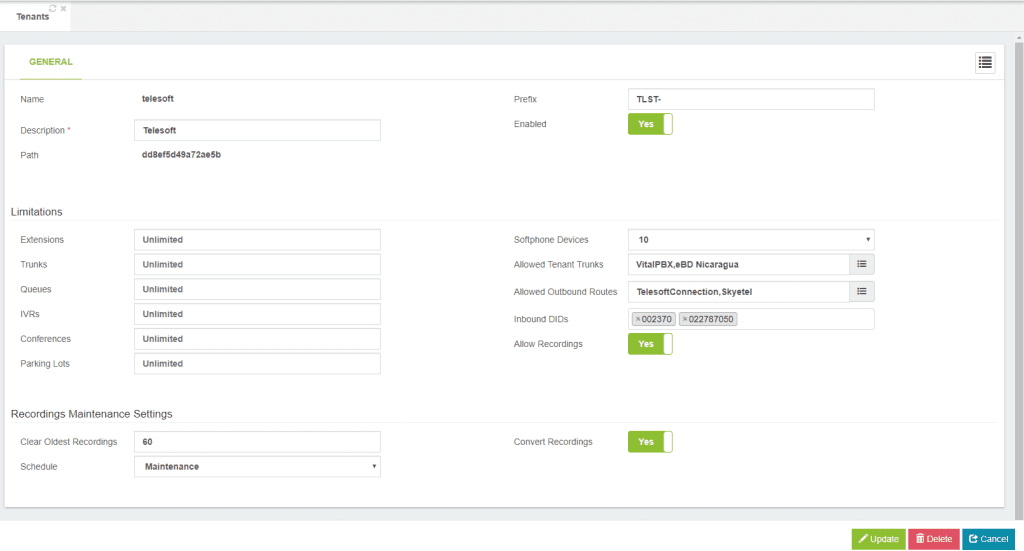 Core: Introducing the support for carrier and enterprise licenses
Asterisk: Introducing Asterisk v16.3.0
Portal Users: The portal users are shown again in the user's module.
Intrusion Detection (Fail2ban): The fail2ban's configurations definitions have been updated to improve the PBX security and performance
Bug Fixes
Trunks: It was not possible to define custom SIP/PJSIP headers when creating trunks in text mode.
Tenants: The list of available destinations was not showing when the administrator switching to secondary tenants.
Certificates: Avoid generation of let's encrypt certificates if the challenge is not completed.
Web Server: Avoid breaking web server when assigning an invalid or non-existing certificate.
Queues: The ringback tone on queues was not playing as expected.
Voicemail: The attached voicemail was always sent in WAV49 format, instead of using the format configured by the user.
Music on Hold: Due to wrong permissions on MoH folders, the selected MoH by the users was no playing as expected
Learn more about VitalPBX, our services and how we can help you achieve your goals in our official website.