We are glad to announce that VitalPBX v3.0.4 is immediately available for download. This new version comes with various fixes and improvements in the add-ons and core functionalities.
As always, before starting with the changelog, we would like to say thank you to all of you for supporting VitalPBX through purchasing subscriptions, support, add-ons, or by reporting issues. Thanks to all of you VitalPBX is getting better and better with each release.
Improvements On VitalPBX 3.0.4
Asterisk: On this release of VitalPBX, we are including an update to Asterisk 18.0.1, the new LTS version of Asterisk. If you would like to know more about what this Asterisk version includes, you can go to

this link

.
PJSIP Settings:

Now, it is possible to disable the transports reload. This might help to avoid disrupting in-progress calls when applying changes from the VitalPBX GUI.
Now, it is possible to define a default language from PJSIP endpoints. This is useful to define what language will be used when configuring Hot Desking devices.

RTP Settings: Now, it is possible to define the ICE Host Settings from the RTP settings module. This new section will allow you to define which IP addresses will be exposed during ICE negotiations. This is commonly used when your PBX server is behind a one-to-one NAT.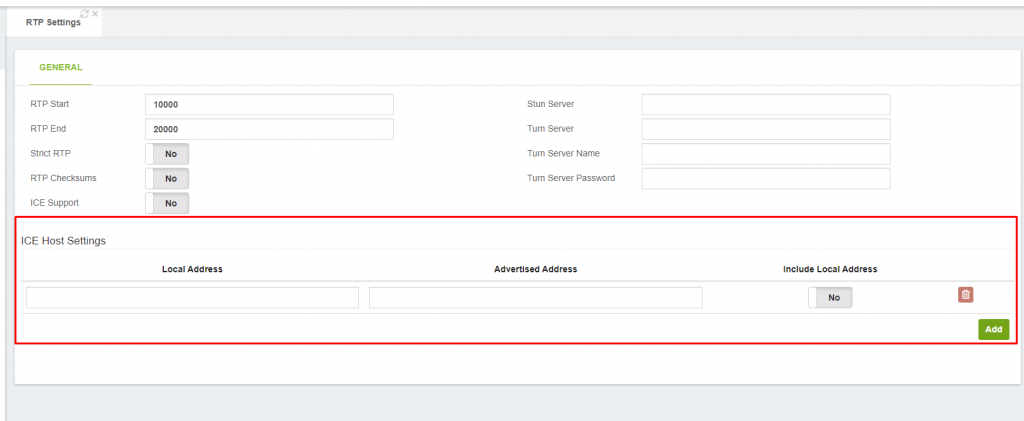 Asterisk Prompts:

Now, the custom prompts for VitalPBX have been standardized with the voice of

Allison Smith

.
We are making available a set of asterisk languages that already includes the custom VItalPBX's voice prompts. This is the list of the available Asterisk languages provided by VitalPBX:

German – Lina's Voice
English (Australia) – Addison's Voice
English ( United Kindom) – Beatrix's Voice
English (United States) – Grace's Voice
Spanish (Mexico) – Leticia's Voice
French – Fini's Voice
Italian – Valentina's Voice
Portuguese – Bruna's Voice

Virtual Faxes: The quality of sent faxes has been improved.
Branding:

Now, the color of the dashboard icons is set according to the base color configured on the branding module.
Now, the mobile logo from the branding add-on is used as the default Avatar across the GUI.

VitXi WebRTC: Several aspects of the GUI from the VitXi WebRTC application have been improved on this version. Various issues have been addressed in this version.
i18n: The Italian translations have been updated.
Security Enhancements on VitalPBX 3.0.4
Extensions/Endpoints: Now, it is possible to define the default length of auto-generated passwords from the System General module. By default, the password's length will be 25 characters.

HTTP Server: Now, VitalPBX implements all the recommended settings for securing HTTPS connections and avoid vulnerabilities like POODLE (SSLv3), POODLE (TLS), and others.
Addressed Issues on VitalPBX 3.0.4
CDR:

It was not possible to access the CDR reports when using the Community or Standard version of VitalPBX.
It was not possible to listen to call recordings from mobile devices.

Certificates: Unsuccessful renovation of Let's Encrypt certificates was producing the certificates get deleted and therefore the end users lost access to the GUI.
Music on Hold: It was not possible to use custom music on hold items as the default music on hold.
i18n: An invalid translation format in Portuguese translations was causing unexpected errors in the Dynamic Routing module.
Queue Stats:

It was not possible to receive the scheduled reports.
Multi-tenant functionalities on reports have been fixed
VitalPBX 3.0.4 Release 2
Extensions:

The internal Caller ID was sent when the "Overwrite CID" parameter was set to "if not provided" in trunks and outbound routes.
A new parameter named "Dynamic External CID" has been added under the Advanced tab on the extensions module. This parameter allows you to define if the Caller ID sent by the devices will be used as an External CID. This might be useful when the extension devices are used for trunking.
A new parameter named "Prompt Internal Callees" has been added under the Follow-me tab on the extensions module. This parameter allows you to define if the internal' called parties will be asked whether they wish to accept or not the incoming call when the "Prompt Callee" option is enabled.
The validation for detecting duplicate Inbound Routes for extensions has been fixed.
VitalPBX 3.0.4 Release 4
Ringroups: Calls to ring groups were generating CDR registries with no duration.
Dialplan: Calls to extensions with no voicemail nor call waiting enabled were returning a declined error (603) instead of Busy (486)
API:

Now, the extensions' endpoint returns the diversions associated with a specific extension.
Now, It is possible to access VitalPBX's API using port 3500. This port needs to be open in order to handle push notification tokens for Android Devices.

Extensions:

It was not possible to flag more than one extension as a VitXi client when using the free version of the VitXi Licensing Server add-on. Now, it is possible to create 2 extensions as VitXi clients with the free version of the VitXi Licensing Server add-on.
The QR code was not showing the right port when using a protocol different from UDP.

Bulk Extensions: When creating PJSIP extensions and devices using the bulk extensions module, the Default WebRTC profile was used instead of the Default PJSIP Profile.
Branding: The VitalPBX logos were shown when switching from light to dark mode and vice versa. Now, the branded logos are shown instead.
Trunks: Now, it is possible creating trunks with TLS transport.
Core: Various improvements and fixes have been made to improve the stability and the performance of VitalPBX.
Switchboard:

The way for obtaining the DND status on multi-tenant environments has been fixed.
The way for obtaining agents stats and queues info on multi-tenant environments has been fixed.
The performance to obtain the extensions' status (Registered/Unregistered) has been improved.

ISO Release: The VitalPBX's ISO has been updated to CentOS 7.9
Conclusion
With this update, we are bringing even more stability and strength to our feature set so we can make VitalPBX an even better platform. This is a great update for security, accessibility, and configuration control.
Once again, we would like to thank the members of the community that help us with feedback and suggestions, as well as VitalPBX users that purchase our different products and services.