We're glad to announce VitalPBX 2.3.9, our latest release candidate version. This new version includes various enhancements on Security, PJSIP Trunks, Endpoint Manager, and more! Also, includes various fixes reported by our partners and the VitalPBX community.
If you wish to read about the new features and add-ons introduced in previous updates, click here and learn about all the tools and upgrades we´ve added over time.
As we've said before, this version is intended for everyone who has signed up for the beta test program, so, this version should not be used in production environments.
Big thanks to all the folks who have provided us with feedback, asked questions, or reported issues. Specially thanks to those who have actively contributed translating the GUI, buying add-ons, and sharing their knowledge to make this project even better.
Next, we will list all the improvements, new features, and fixes included in this version.
This new version introduces Asterisk version 16.6.2, you can check the Asterisk Change Log here.
Improvements
Trunks:

Now, the DTMF parameter can be configured directly from the main trunks section.
Now, it is possible to assign a technology profile, to easily share common parameters and settings between all trunks with same technology.

Queues Callback:

When the option "Dial Agents First" is set to yes, the call will not be sent to the customer until the dialed agent answers the call.
Now the queues callback items can be used as destination, but only if the field "Callback Queue" has a queue defined.
To install this version of the add-on, you must go to the Linux console and execute the following command: yum install vitalpbx-queues-callback
Endpoint Manager:

Now it is possible to provision PJSIP devices.
Now it is possible to provision devices that belong to other tenants

Conferences: New video modes have been added. This are introduced on latest version of asterisk.
New Features
Time Conditions:

Now, it is possible to monitor the time conditions status trough a BLF key.
Now, it is possible to override temporarily/permanently the time condition status trough the GUI or by dialing a toggle code.

Paging:

Now it is possible to define an announcement to be played to all paged participants. Depending on the configured mode for the paging items, the call could be hanged up or not after playing the announcement.
The capability to schedule paging items has been added. This new feature comes as an add-on, so, to install it you must go to the Linux console and execute this command: yum install vitalpbx-paging-pro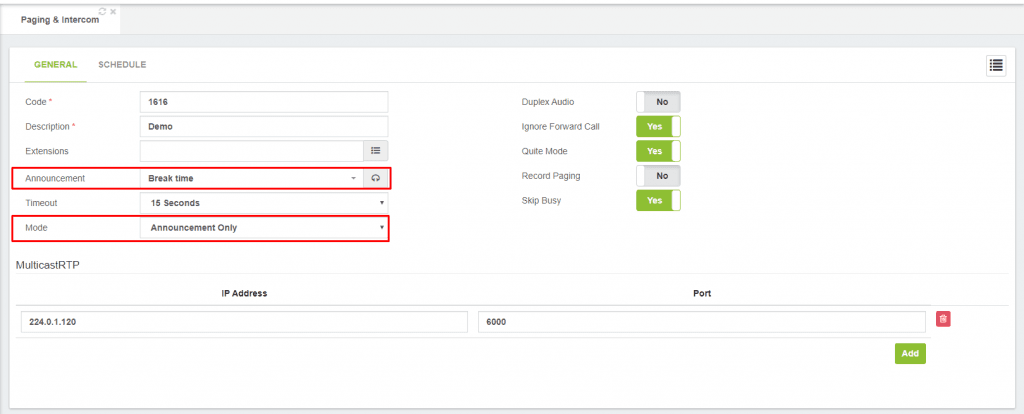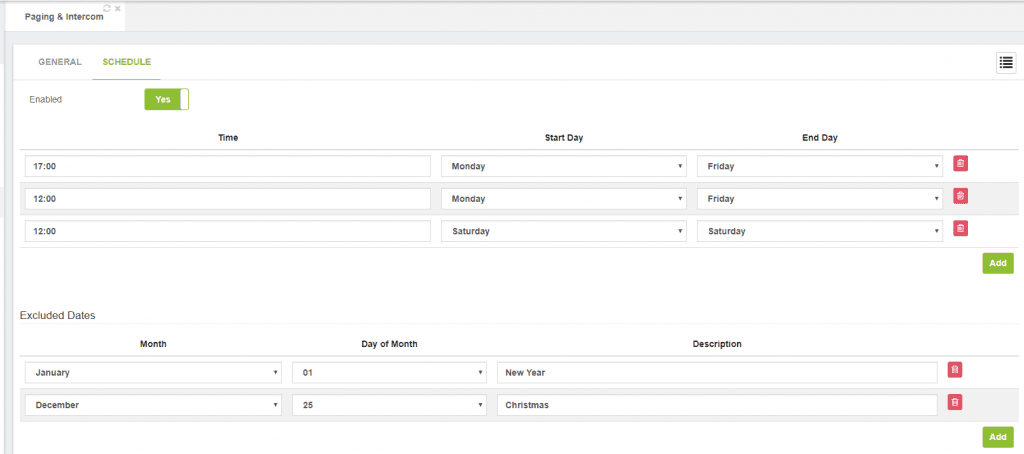 PJSIP Trunks:

A field to customize or manually define the AOR contacts for a PJSIP trunk has been added. This is useful when a provider has multiple IP addresses for outgoing calls.
Now it is possible to customize Server/Client URI for outbound registrations.

Security
Intrusion Detection (Fail2Ban):

Now, brute force attacks to the EPM (Endpoint Manager) are being blocked.
Now, the banned time is handled entirely by the intrusion detection tool, on previous versions, the banned time was handled by the ipset tool.
Fixes
Queues: Calls to queue members with the follow-me option enabled made it so that calls get hanged up after returning from a 'no answer call', this avoided getting to the final destination setting or continue trying with other agents.
DialPlan: Some phone brands were showing extension "s" on display after the dialed number answered the call.
Trunks: Some invalid parameters were added during the generation of trunk configurations.
GUI: In some cases, the help tooltips didn't disappear, forcing the users to refresh the page to get rid of the balloon.
Help us test the release candidate!
We expect to launch the stable release by the 2nd of December if everything goes as planned. In order to ensure the release is good to go before we finish it; we need your help. As you begin to test the release candidate, please report any bugs you find so they can be fixed. For those who are already a beta tester, we highly recommend you start over and create a new Installation from scratch. You may download the ISO from here or install in the cloud using our release candidate VPS script.
For a fresh install, don't forget to add the RC repositories to "/etc/yum.repos.d/vitalpbxrc.repo". You can follow the instructions from the email you received when registering to the Beta Program.
If you have questions or any other type of feedback, please feel free to share it in our community forum. You can join an existing conversation or open a new topic (thread). Your input and help is highly appreciated.
Get to know about VitalPBX, our services and how we can help you achieve your goals in our official website.